Antonín Dvořák and Nelahozeves
"While you're there, look up the small village with the long name of Nelahozeves. And you will see a plain building there, right beneath the castle of the Lobkowicz princes…do you see it? — my father had a tavern there, which he also used as a butcher's shop. I was born in that house and spent the entirety of my modest childhood in that beloved region."
Antonín Dvořák, quoted according to Václav Novotný, Dvořák in England, 1911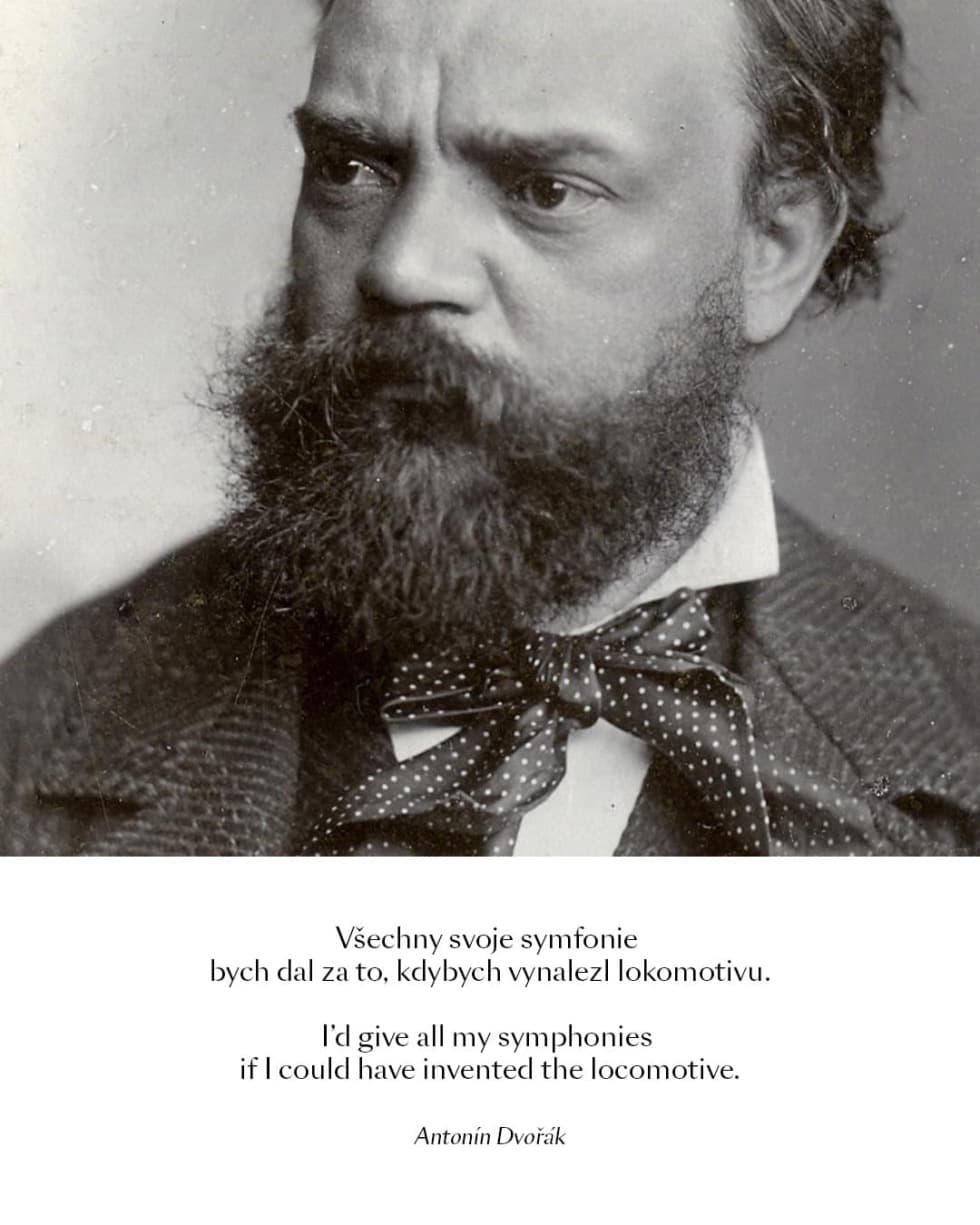 Antonín Dvořák was born September 8, 1841, in Nelahozeves, the first son of Anna and František Dvořák, who was a butcher and innkeeper. The family first lived at No. 24, which was also the local butcher's shop. Then they moved to the so-called Tavern Engelhardt at No. 12 and took over its ownership as innkeepers. This is where Antonín Dvořák was born and where the Dvořák Festival is held in part today.
Dvořák spent the first twelve years of his life in Nelahozeves and began his musical training there. The local cantor Josef Spitz taught him violin, and the young Dvořák soon began performing in the village band and at St. Andrew's Church, where he was also christened. Nelahozeves's many everyday sights and sounds would influence Dvořák throughout his life and gave him inspiration for his more mature compositional output. Set against the majestic backdrop of the Vltava, these everyday surroundings surely included the abundant countryside landscape, verdant nature, and the railroad, which was first built in the Nelahozeves area during Dvořák's childhood. Dvořák became familiar with various musical genres during his time in Nelahozeves, such as liturgical music, folk music (most likely from his father's tavern), and dance music used in the dance hall at No. 12. Dvořák's father František was musically talented and often entertained guests with his zither-playing.
In 1853, Antonín graduated from the municipal school as one of the best in his class and moved to nearby Zlonice so he could continue his musical training with cantor Antonín Liehmann. There, his musical career began to thrive, and he continued his studies in Česká Kamenice, where he stayed for a year before he subsequently began studying organ at the Institute for Church Music in Prague (1857–1859).
Dvořák achieved critical success and acclaim both at home and abroad, and his career reached its peak in America, where he was appointed Director of the National Conservatory of Music of America, established in New York City, for three years. His Symphony No. 9 in E minor (New World Symphony) also received its premiere in the renowned Carnegie Hall in 1893. Although he never returned to Nelahozeves permanently, memories of his childhood home stayed with him throughout his entire life.
The Dvořák Nelahozeves Classical Music Festival pays homage every year to the birth of one of the most famous, most performed Czech composers, Antonín Dvořák (September 8, 1841–May 1, 1904). The festival was founded by the Antonín Dvořák Society in 1951, around the same time when his house of birth in Nelahozeves opened to the public for the first time in history. The village of Nelahozeves had always celebrated the composer's birthday, but the festival ensured it would be celebrated consistently every year.
This one-day event offers a series of concerts at various venues in Nelahozeves as well as a supplementary program including workshops and guided tours for both children and adults. Concerts take place in authentic spaces associated with Dvořák's childhood in Nelahozeves: in the composer's birth house, in St. Andrew's Church (where he was christened), and in the Renaissance Lobkowicz Nelahozeves Castle.
The festival most importantly promotes the work of Antonín Dvořák but also celebrates the work of his contemporaries and and supports new scholarly research on the composer. A roster of renowned Czech interpreters of Dvořák's music has graced the stage at the Dvořák Nelahozeves Festival, including pianist Ivo Kahánek, scholarship winners of the Czech Chamber Academy, the Dvořák Trio, and the Martinů Quartet.
The festival is presented by the Lobkowicz Collections in collaboration with the Municipality of Nelahozeves, Národní muzeum – Antonín Dvořák Museum, and the Antonín Dvořák Society.
71th Season of the Festival
The 70th Season at a glance
The 70th Dvořák Nelahozeves Classical Music Festival is successfully behind us, and we are eagerly awaiting the next one! Dedicated to Dvořák's 180th birth anniversary, this year's season was exceptionally well-received, and we could not have asked for better weather or attendance. We would like to take this opportunity to thank all the organizers and partners of the festival, performers, and, of course, guests.
© Anna Marie Němcová, Veronika Graulíková
Practical and Contact Info
The festival takes place on September 10 in the municipality of Nelahozeves, about 25 km north of Prague.
Directions:
By car: highway D8, exit 18 – Nová Ves
Parking is available on the castle grounds
By train: "Nelahozeves zámek" station
By bike: The Vltava bike path